Lauren Smith's hack used the Kmart wooden cubby house, spice racks from IKEA, craft items from Spotlight to  create a beautiful bookstore for her daughter.
Some people practice and practice to hone their craft of hacking ordinary Kmart items into extraordinary things.
Other people just have creativity in their bones.
Take Lauren Smith, a Brisbane mum who took a Kmart cubby house, some craft items from Spotlight, spice racks and a rug from IKEA and created the most incredible, magical little bookshop for her one-year-old daughter, Isla.
Lauren shared photos in the Kmart Décor and Hacks Facebook group, and said that this was her first ever Kmart hack. "I wouldn't say I'm overly creative, but I do like to get a bit crafty," Lauren tells Kidspot.  
If you're a new crafter and your confidence is shaken easily by people who are naturally excellent, it might be best to stop reading.
Want to join the family? Sign up to our Kidspot newsletter for more stories like this.
Lauren clearly has a future in design. Photo: supplied by Lauren Smith
From simple cubby house to magical book shop
In case you've never seen a Kmart wooden cubby house, let us describe it to you. It's an unpainted, untreated square wooden box, with a half door on hinges, a little pitched roof, flowerboxes out front and prettily framed windows.
It's a blank slate that some people (ahem, me) might just stick up in the back garden and let their kids draw on with chalk.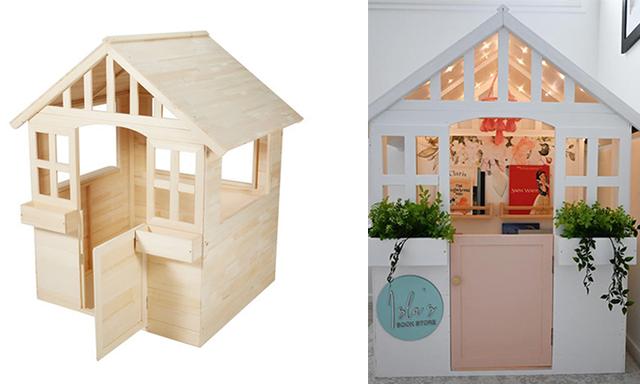 From meh to marvellous. Photo:…
– Read more at this – Source